外資系客室乗務員採用情報
キーワード検索
---
No.1241

| 《最終選考結果》フィンランド航空客室乗務員

2018年2月8日
No.1174

| 《客室乗務員募集》フィンエアー

2017年11月17日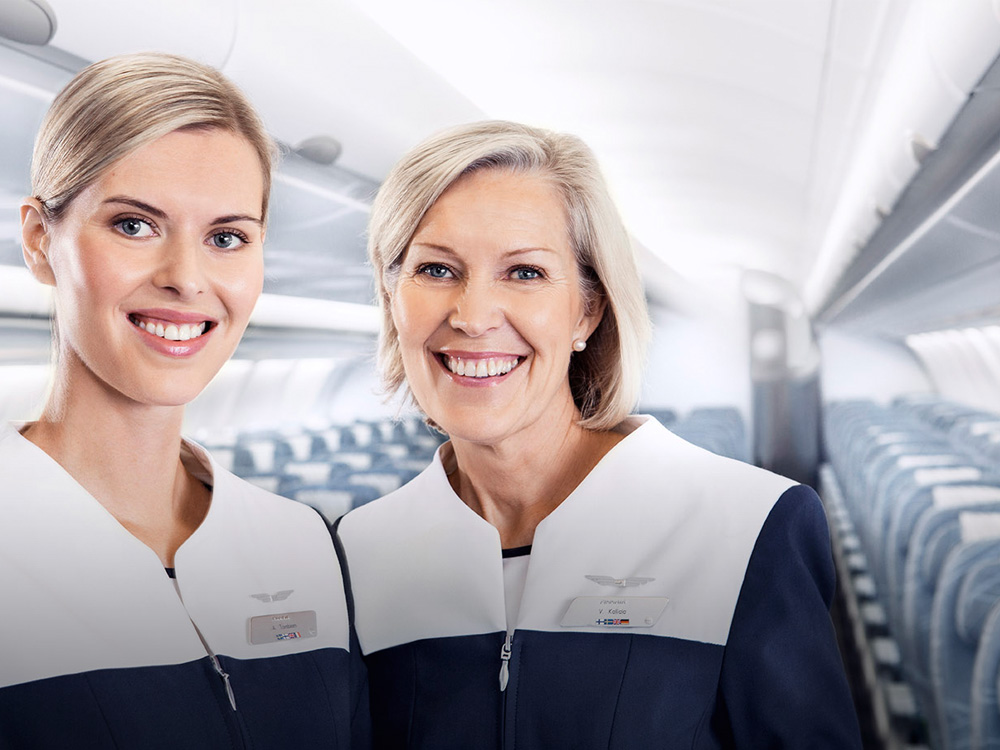 フィンエアー ヘルシンキ勤務 客室乗務員募集
応募締切:2017年12月6日

〈PR〉 【EOK】フィンエア180分 少人数超直前集中レッスン



【以下は募集要項抜粋です。(フィンエアー採用サイトより)】

*ご応募の際には上記リンク先HP記載の募集要項を必ずご確認ください。

----

Cabin Crew, Japanese speaking group in Helsinki
We at Finnair are a team of dedicated and ambitious professionals from around the globe. We serve a challenging global market and take pride in our operational excellence and high-quality products. Our values – commitment to care, simplicity and courage – guide our actions. Established in 1923, we are one of the world's longest-operating airlines. This success has been made by people having a can-do attitude, courage and a focus on clarity. It's all about people. 
Finnair's strategic objective is to double its Asian traffic by 2018, and we are now in the accelerated growth phase of our strategy. Customers are at the heart of everything we do. Our vision Unique Nordic Experience comes alive in our everyday encounters with customers. With excellent customer service across the customer journey and lifetime, we can have the biggest influence on customer satisfaction and they want to fly with Finnair again and again.  
In order to serve the increasing Japan flight frequencies and one of our key customer groups, we will establish a new group in Helsinki and are now recruiting new cabin crew members with Japanese language and cultural skills. The new Helsinki group will operate Finnair's Nagoya and seasonal Japanese routes as well as certain European routes that are popular to our Japanese customers. We are planning on starting the first new courses in March 2018.
Our team of world-class professionals would like to warmly welcome you on board our
CABIN CREW 
responsible for cabin safety and customer service on Finnair flights. 
We are looking for customer-oriented team players who feel passionate about customer satisfaction and high-quality service. On the flights, you will ensure that Finnair's customer promise and the vision of unique Nordic service is fulfilled. You enjoy serving our customers with a positive, warm and friendly attitude. We ensure our customers arrive relaxed at their destination and feel that they want to fly with us again. 
 
As a member of Finnair's cabin crew, you will also look after the safety of Finnair flights. You will follow safety guidelines and prepare for each flight by familiarizing yourself with flight information and related working instructions. You will create and maintain a safe working environment, and foster a positive work culture true to Finnair's values: commitment to care, simplicity and courage. 
What is required to become a cabin crew member at Finnair? 
・Completed secondary education (upper secondary / vocational school) 
・Experience of customer service 
・Fluency in English and Japanese is required, other language skills are considered an asset 
・Excellent understanding of Japanese culture
・Ability and willingness to understand and follow instructions 
・Height minimum 160cm 
・Normal color vision and distant vision using both eyes 0.7 or better (with or without glasses) 
・Normal hearing 
・Ability to swim minimum 50 meters 
・Good general health (minimum requirement EASA Part Med Cabin Crew and Finnair regulations). In general this means, that the applicant should have no long-term medical conditions, especially conditions requiring continuous or recurrent medication or regular follow-up. 
・No visible tattoos, piercings or teeth jewelry 

You can find more specified information of the requirements here. 
We encourage you to leave your application as soon as possible at www.finnair.com/jobs, as first selections will begin immediately. Last day to apply is Wednesday December 6th 2017. We recommend you to follow your email frequently after submitting the application (please also check spam/clutter folder as sometimes emails are filtered there). 
We are primarily looking to hire for permanent employment. We are looking for full-time employees, as well as employees for some possible part-time models.
Selection process will consist of several steps, including online assignments and an assessment center in Helsinki and/or Tokyo. The assessment centers will take place during the weeks 1-3 of January 2018. Before employment, selected candidates will participate in a training course of eight weeks, without separate compensation for the training period. Successfully passed cabin crew training is a prerequisite for employment. Drug tests will be conducted to the applicants selected for training during the selection process prior to clearance.
Finnair will support in arranging and cover the cost for relevant work permit in Finland for the selected candidates. Finnair does not provide other moving or housing related support.
Unfortunately, we are not able to answer inquiries by phone but we are happy to answer any questions about Finnair cabin crew work at ask.fm/finnaircabinjobs_japanor you can read more about the role on our website. You can also send your questions to cabinjobs@finnair.com. 
First application date: 11/16/2017 
Last application date: 12/06/2017

---